The one that designed and developed the original 3D printed moon lamp, including the levitating versions.
---
ly****@msn.comMay 14 2019, 8:05 am
Love it! I got this for my 3 year old granddaughter (because I love her to the moon and back) and I absolutely love it!! I can hardly wait to give it to her!! Highly recommend this unique item as a special gift for yourself or someone else!
my****@hotmail.comMay 16 2019, 12:28 pm
I wrote a personalized message for my boyfriend and it made him smile. I charged it before giving it to him so he was able to simply tap it and it turns on! I was pleasantly surprised that it also comes with a remote. It is a very unique gift which is perfect for your loved one
Treva S.May 21 2019, 7:21 pm
This lamp makes for an awesome and unique night light for my son. I especially love the fact that it is dim-able with the remote and you can have a white-ish moon or a blue-ish moon, or a yellow-ish moon. The inscription is larger than I thought it would be, given the examples, but that doesn't effect my love of this product. The wooden stand wasn't at all difficult to put together. I have yet to test how long it actually works without being plugged in, but that will be next! I hope this review section will let me update my review later with pics :) I received this product for free in exchange for an unbiased review.
to****@gmail.comMay 22 2019, 12:19 pm
I have ordered other 3D printed moons previously, but this one is the best! This was a gift & I loved the fact that I was able to add a personalized message. The remote control is such a cool feature (which I tested thoroughly) and seems to work quite well. You are able to turn it on/off, change colors (bright white, warmer white) & change the brightness of the light. I counted 7 "levels" of brightness, which I found to be impressive. I had a lot of fun testing out the different options for this light and think it makes a great gift for just about anyone from kids to adults.
do****@gmail.comJun 15 2019, 11:55 pm
I received this as a Christmas gift six months ago. I loved it when I first started using and I wanted so badly to continue loving it. However, despite not being used nearly enough to burn anything out and despite ensuring that it is fully charged, it now only works when it is plugged in. It's a disappointment because part of the appeal of this when I first got it was not having to keep it plugged in to use it.
ly****@izoom.netJun 30 2019, 10:46 pm
Received this in my very first box. It was the first item I took out, I love it! So unique and fun!
cl****@yahoo.comJul 11 2019, 11:25 am
Gifted to my brother who loves all things Moon related. Love the tactile feel. Rechargeable and touch to turn on/off
ChristyJul 12 2019, 9:42 pm
Oh yes! This was indeed the perfect little moon light! It makes a wonderful nightlight. I just love the fact that you can charge it and then use it during the night without it being plugged in! Don't have to worry about it being plugged in and saves power! And if the power goes off you have your niffy moon light :D It has two color settings which is awesome, a yellow light and a brighter white light. I will use softer yellow at night and white light in the day! It's a must have for all moon lovers!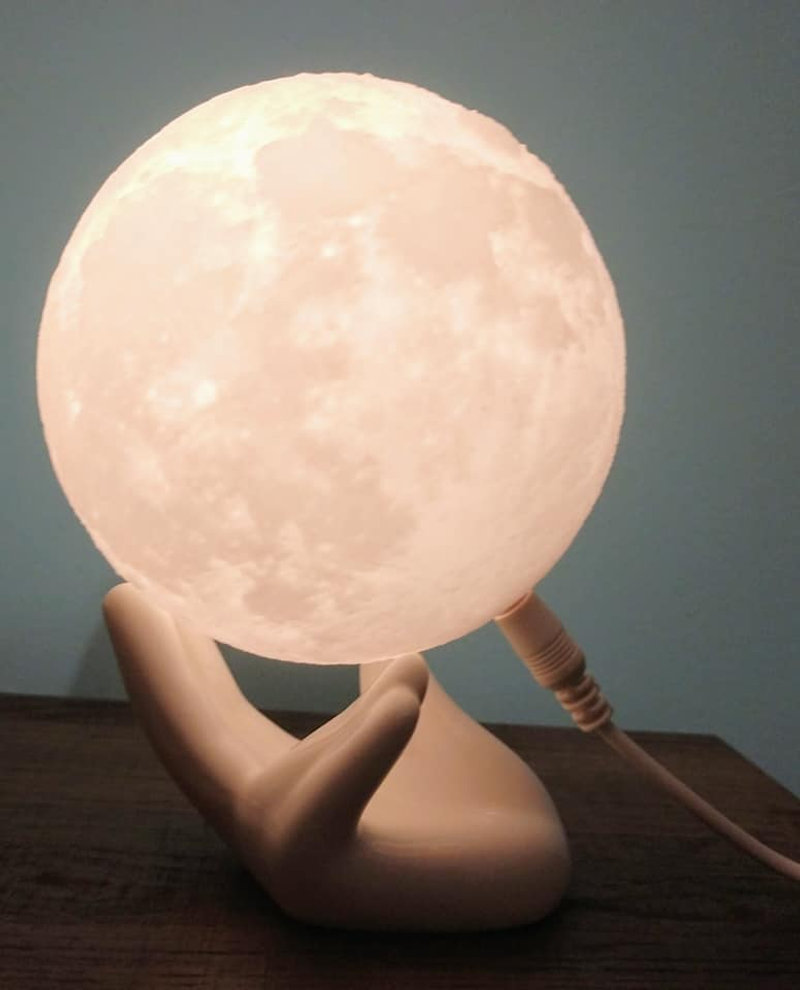 96****@qq.comAug 23 2019, 6:59 pm
Shipping is extremely slow!!!!!!!!
Meghan B.Oct 4 2019, 6:50 pm
Very beautiful and nicely packaged, will make excellent gift :)