The one that designed and developed the original 3D printed moon lamp, including the levitating versions.
---
cl****@yahoo.comJul 11 2019, 11:25 am
Gifted to my brother who loves all things Moon related. Love the tactile feel. Rechargeable and touch to turn on/off
ChristyJul 12 2019, 9:42 pm
Oh yes! This was indeed the perfect little moon light! It makes a wonderful nightlight. I just love the fact that you can charge it and then use it during the night without it being plugged in! Don't have to worry about it being plugged in and saves power! And if the power goes off you have your niffy moon light :D It has two color settings which is awesome, a yellow light and a brighter white light. I will use softer yellow at night and white light in the day! It's a must have for all moon lovers!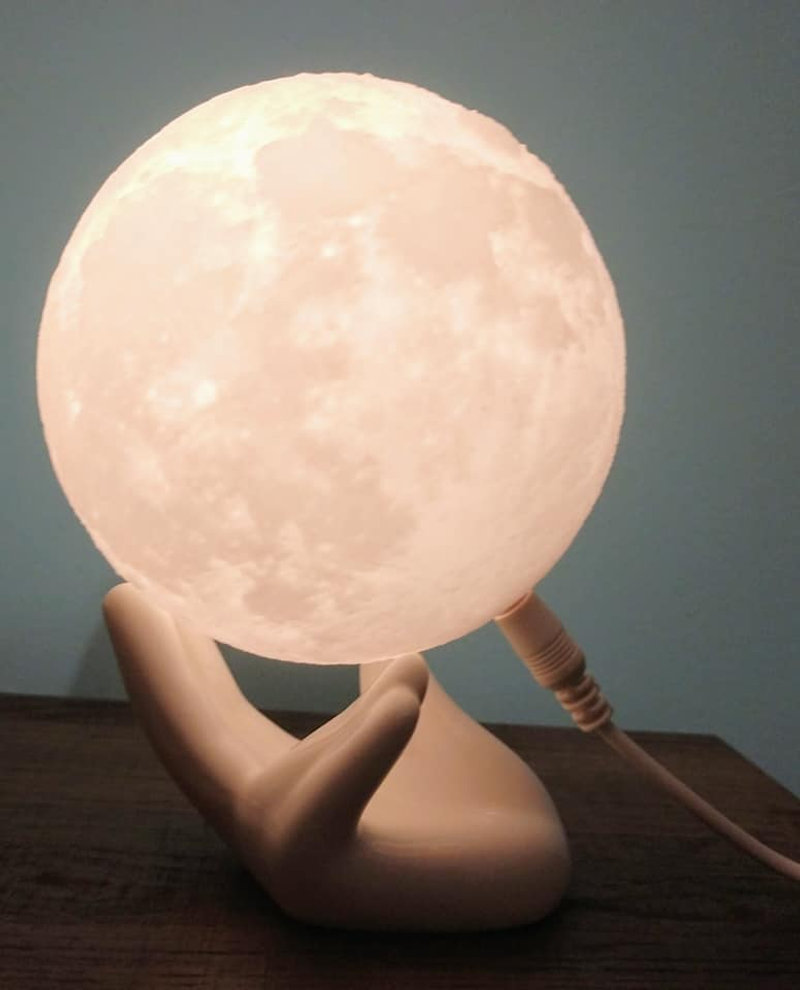 96****@qq.comAug 23 2019, 6:59 pm
Shipping is extremely slow!!!!!!!!
Meghan B.Oct 4 2019, 6:50 pm
Very beautiful and nicely packaged, will make excellent gift :)
se****@gmail.comOct 15 2019, 7:09 am
Took way to long to come in
Judy B.Nov 6 2019, 11:52 am
Love my moon light light..thinking of ordering another..I bought the one with the ceramic hand holder..wish the larger moons had the option of a ceramic hand holder..
da****@gmail.comDec 25 2019, 2:59 pm
I really love this lit moon globe, however, I wish that I would have realized that I could purchase a remote to go with it to control the dimming, etc. Was it just that I missed this, or was it not clear? I am disappointed about that, because I would love to have the remote, but otherwise I really love this item and recommend it.
em****@gmail.comFeb 3 2020, 3:17 pm
My husband is pretty great with taking amazing photos of the moon so I saw this and thought it would be a perfect little desk gift to honor that hobby. I got the larger of the two options that still allows for the ceramic hand base and it's perfect!! He was very appreciative of such a fun but thoughtful gift. Highly recommend to anyone wanting a nice, unique desk or side table addition.