Customer Reviews
Laura P.Feb 14 2019, 9:30 pm
After giving it a lot of thought because it was expensive, I decided to buy the green dinosaur. I felt like I was taking a chance when I ordered it because there was no "Green" option and I chose "Dark Grey" because it looked like the closest. To be sure, this is not dark grey. This is green, which I think is better than a dark grey color. The ottoman feels well made. The material has a leather sheen to it and feels soft to the touch. The horns are a soft corduroy material. There isn't a lot of storage room, but enough for remotes, video games, books, or dvds. I did a lot of research before making the purchase through a group sale, including pricing out other ottomans and animal ottomans. Ends up ottomans are just really expensive. Apollo had the best price for this particular ottoman through the group sale. If you do get it through the group sale, check when shipment is expected because it is usually a couple of months after ordering. It was worth the wait in the end!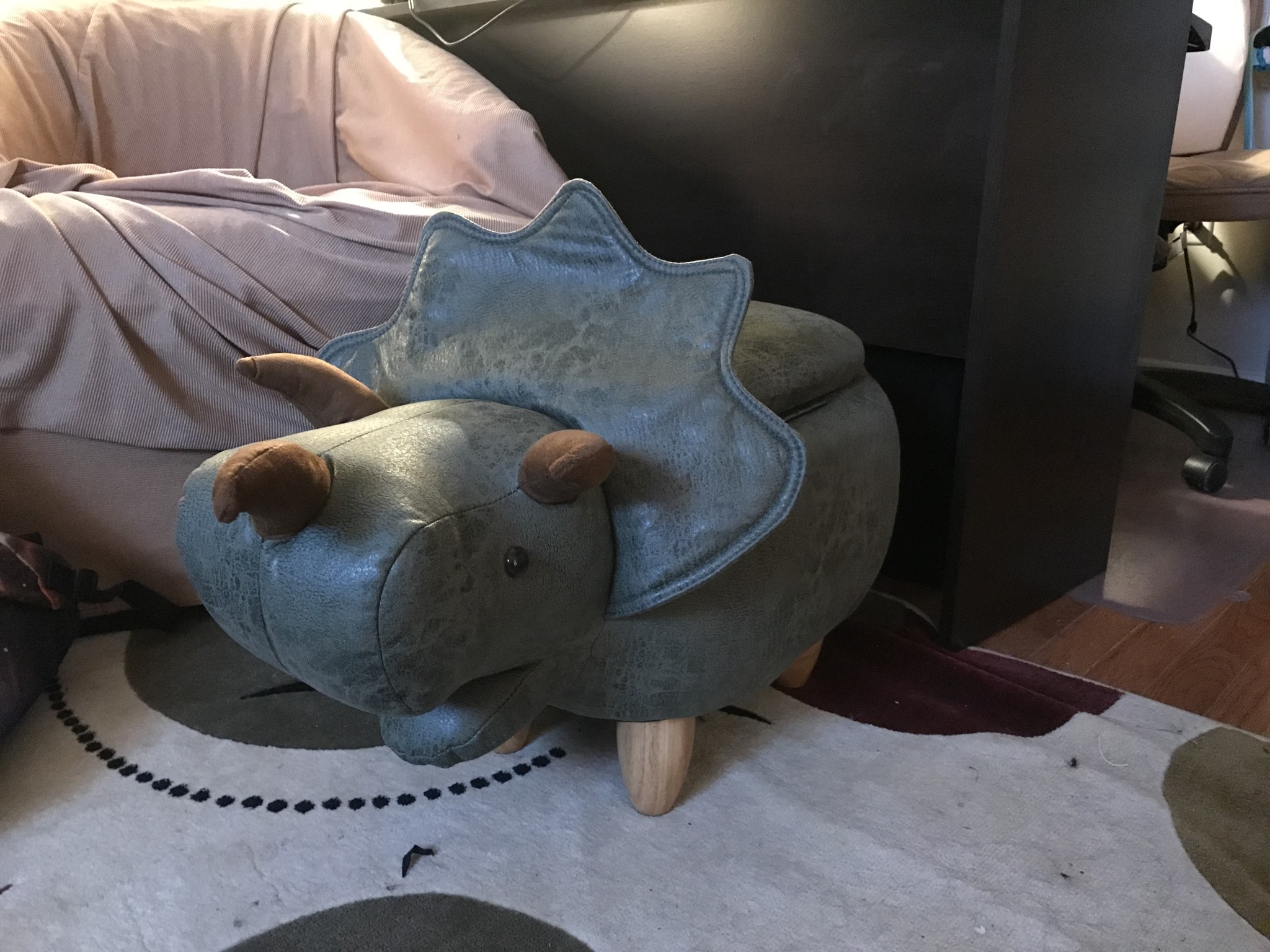 vi****@gmail.comFeb 14 2019, 9:30 pm
I love this stool! It makes a great edition to my living room and I smile every time I see it! Very well-made and everyone who has come by has admired it - would love to have a small army of them all over the place!
sh****@aol.comFeb 14 2019, 9:30 pm
It was a 70th birthday present to a dinosaur loving friend who loved it. I took away one star because it arrived 2 weeks after it was promised, which was after her birthday.
Ashley D.Feb 14 2019, 9:30 pm
Seems well made, sturdy, slightly bigger than I thought it would be (which is good). My only issue is I ordered the dark grey one and the one I received is green. It does look grey-ish in the photo I took but in person it is very obviously green. It took so long to receive it's not worth it to try to exchange so I decided to just keep it. Not quite what I was going for but it will still work.
AndrewFeb 14 2019, 9:30 pm
Deanna M.Feb 14 2019, 9:30 pm
Love our dinosaur stool! Was recieved right on time. Would definitely shop this site again.
Tiffany M.Feb 14 2019, 9:30 pm
Valerie S.Feb 14 2019, 9:30 pm
Love this little stool for my son's room.
Cindy W.Feb 14 2019, 9:30 pm
I got this for my son's room and we store his toys in it. My husband is all about dinosaurs and we are trying to get our son into them. The construction of the ottoman is great and looks just like the photos.