Hi-Tech Lunar Magic
$148.39

$169.99

13%
---
Customer Reviews
ci****@yahoo.comFeb 13 2019, 12:40 pm
I had the levitating moon lamp for 13 months before it randomly stopped working. The company seems unconcerned that their product stops working immediately after the 12 month warranty expires. They did not act surprised to hear that it broke without any provocation from outside sources. This moon is not worth the price if it breaks after a year of use. Further, the moon is very difficult to get floating. The pictures are somewhat misleading as the entire moon does not light up -- there is portion of the bottom that does not light up because of the positioning of the magnet within the moon. While I enjoyed the moon (when I could finally get it set up) and acknowledge that it is a very cool item when working, I am very disappointed that it broke after only a year. I am also very disappointed in the company's response to hearing that it broke.
jo****@live.comDec 27 2018, 11:20 am
So far I'm not too pleased with Apollo Box. I purchased the levitating moon as a Christmas gift. On Christmas day when it was opened, the discovery was made that the "seamless" moon had a very large horizontal seam in it. I emailed Apollo two days ago to request a replacement but have yet to hear from them. Unless they respond today, I'll be forced to write another review, which will not be near as nice as this one.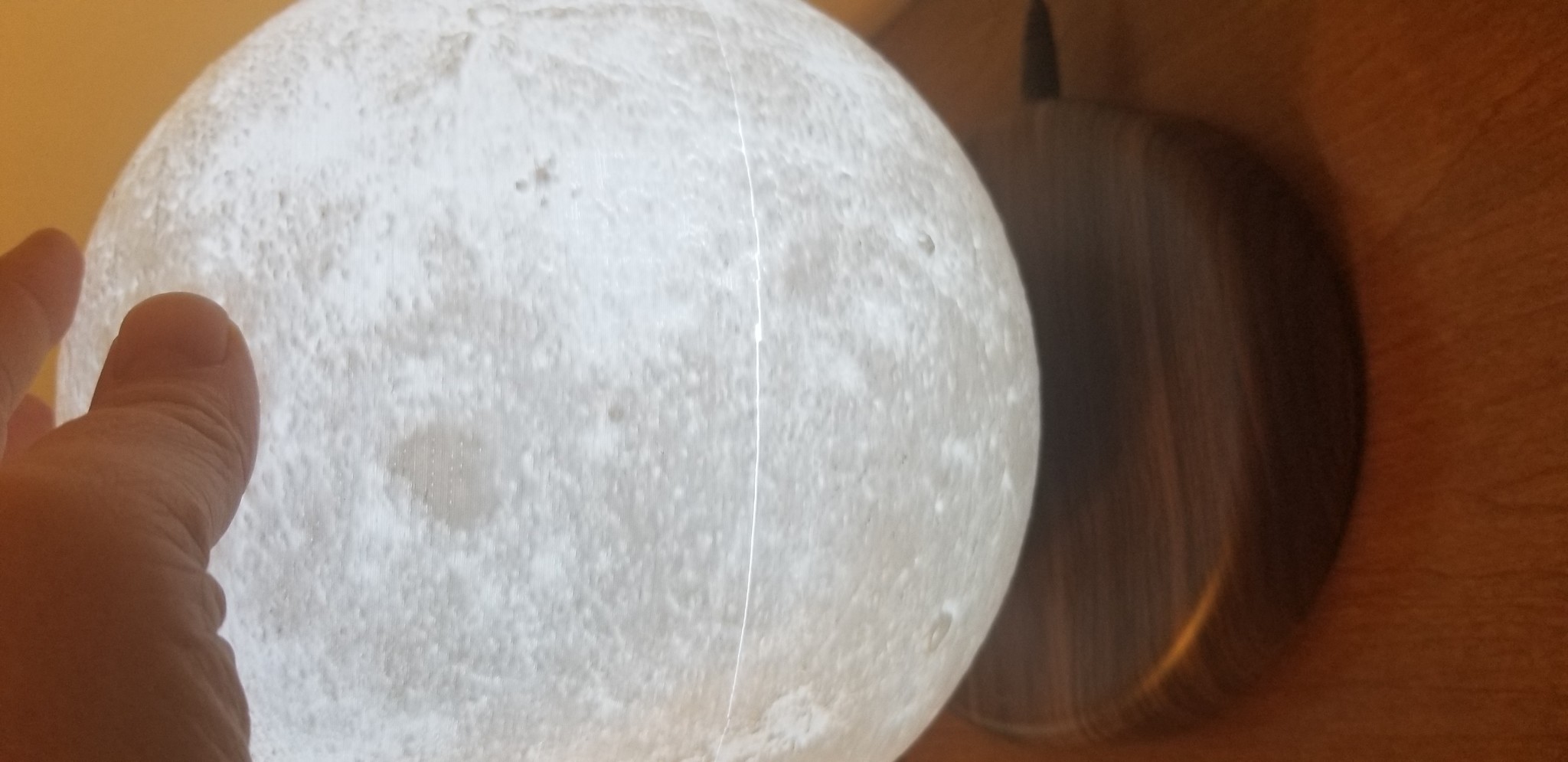 Jennifer W.Oct 26 2018, 11:45 am
Great product! At first it was a bit harder to find the balance, but it was a fun exercise. Rotating speed was actually very slow on mine. I put into my office and really, really love it. Looks even better at night.
GeneOct 25 2018, 10:10 pm
I really want to love this, great idea and looks even better until is spins to fast. The problem is the speed at which it rotates, it eventually rotates at a speed where you can't even see the detail of the moon. I initially thought mine was defective until I sent ApolloBox a video and was informed this is normal. Slow the rotation down to a realistic speed and it's a five star product.
li****@gmail.comApr 12 2018, 5:41 pm
I got this for my boyfriend and he absolutely loves it. He has it on his nightstand and said he often falls asleep watching it. It was all that I'd hoped it would be. Great purchase .
ka****@sandiego.eduMar 7 2018, 8:05 pm
My boyfriend and I love to stargaze. We have a bit of a celestial obsession, so to speak... :) Wanting to be extra creative for Christmas, I searched everywhere for something unique and singular, but something that wasn't cost-prohibitive (and, obviously, star related). When I finally found this levitating moon lamp, I was a bit nervous purchasing it, given I was uncertain how well (or if!) the levitation would actually work. Needless to say, both of us were astonished with how incredible the moon lamp is. It gives a bright glow and mesmerizes you as it floats! The only 'downside' I would point to would be that the initial set up can be a bit frustrating...definitely follow the directions completely to activate the levitation (since the magnetic weight on the bottom of the moon pulls down pretty quickly and strongly on to the base; you need to get the 'sweet spot' --and slowly--for it to levitate properly). The good news is that as soon as you get it to work, it stays and lasts! So thankful I found this for my bf 'cause now I get to enjoy it too!